The recycling rate
for old shoes and clothes is around 90%.
Die Wiederverwertungsquote der Altschuhe und Altkleider liegt bei ca. 90%
Where does
the collection take place?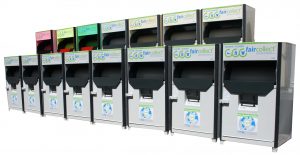 Every new faircollect partner is assigned his own collection area, in which he can independently carry out shoe and clothes collections.
You decide for yourself in which location within the agreed area and with which collection method you collect the recyclable textiles.