Take care of your business.
We'll do the rest.
Take care of your business.
We'll do the rest.
How does
the collection work? 
1. Faircollect street collection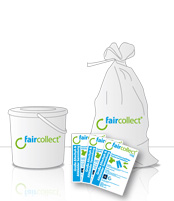 You will get several hundred faircollect collection buckets for free at your disposal in order to distribute them in front of private homes in your area and pick them up again after a few days, filled with old shoes and clothes. Alternatively you can announce the street collection with leaflets only.
The households put the textiles and shoes ready for disposal well packaged in front of the front door and you pick them up at a certain time that has been previously agreed. Regardless of the method of street collection you choose, faircollect provides the necessary advertising material and equipment for you.
2. Faircollect container collection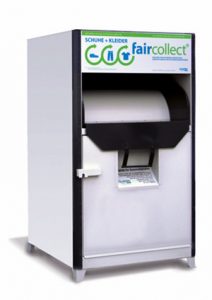 After getting familiar with the faircollect concept, look for suitable locations for the visually appealing and particularly user-friendly faircollect shoes and clothes collection bins. After having received the written approval from the location owner, set up can be done immediately. Once set up, you can regularly remove the used shoes and clothes deposited there.
GLAESER textil is in charge of the acquisition costs for the collection containers as well as the location rent, which is paid to the location owners. You can concentrate exclusively on finding new locations and emptying the collection containers regularly.