Fair, ongoing rental payments.
Fair, ongoing rental payments.
Fair compensation
for property owners
The social aspect of the faircollect concept as well as the well-established collection of recyclable materials in containers itself, provide good arguments to attract prospects for new collection container locations.
Of course, faircollect offers the owners also fair and ongoing rental payments for every placed container and guarantees the proper implementation of the recycling collections.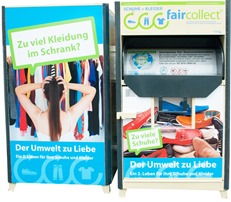 Suitable partners for container locations can be found for example in the municipalities, in private households or in businesses.
Basically anyone that has a square meter of space on an easily accessible property can become a container location partner of faircollect. 
You will receive at the beginning all the necessary instructions and training to enable you to acquire new locations independently. If you need any further help, your personal faircollect contact person is at your side.