No sales risk.
No confusing remuneration rates.

No sales risk.
No confusing remuneration rates.
Which income opportunities
do I have as a faircollect partner?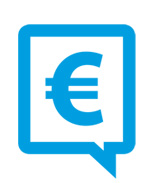 In order to avoid complicated and confusing remuneration rates, you will receive a fixed remuneration from us for every kilogram of clothes and shoes you collect. It does not matter which method you have used to collect the delivered quantity. The area in which the collection took place is also irrelevant when you hand it in.
With faircollect we want to create absolute transparency through the principle of profit sharing in the collection result. If you do not have any storage capacity, you can deliver the collected recyclable items directly to GLAESER textil in Ulm. If there is a certain volume, we can also provide you with a swap body on site for direct unloading.
As far as possible, we will prevent you from costly and time-consuming interim storage.
Faircollect guarantees you the ongoing acceptance of used shoes and clothes at all times. This way you can always be sure that you will be reimbursed immediately for every kilogram you collect and you don't have to wait long for your independent activities to be paid.
Faircollect and GLAESER-textil take the entire sales risk from you and you can concentrate fully on the growth of your collection area.